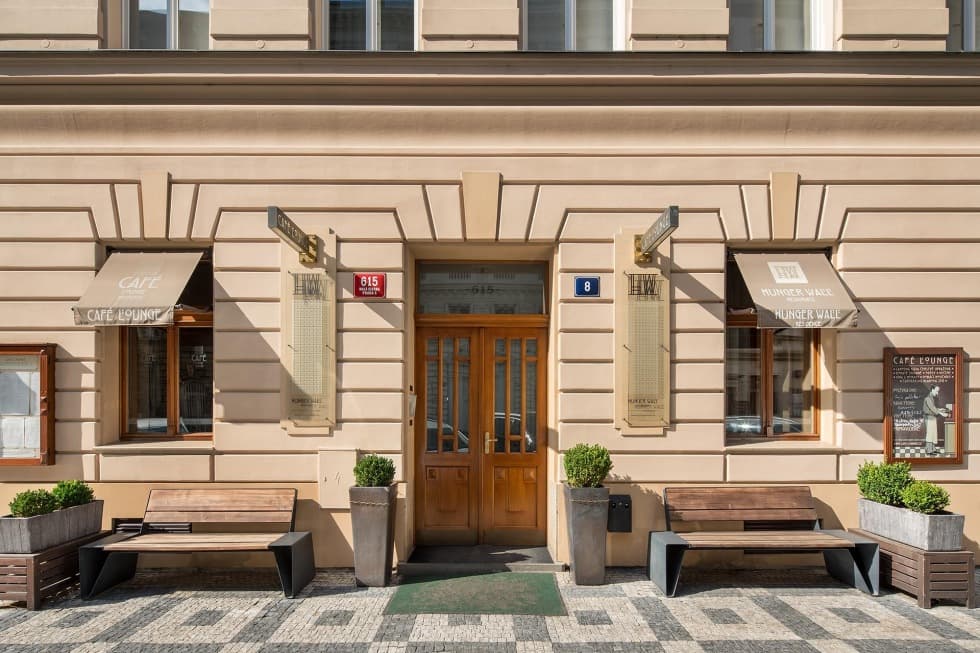 Hunger Wall Residence
Plaská 615/8
150 00 Prague 5 – Lesser Quarter
Czech Republic
GPS
50°4'50.716"N 14°24'20.385"E
How to get here?
By public transport: Take the tram to the Újezd stop, then walk approximately 50 metres.
The closest Metro B stop is Národní třída (two stops by tram) or Anděl (three stops by tram).
Use a search engine to find the best connections.
By car from the National Theatre: Cross the Legion Bridge. Turn left at the corner of Vítězná Street. Follow the track and turn left at the first set of traffic lights (you will circle Kinský Square). Then take the first street to your left and the third street to your right is Plaská Street.
By car from Barrandov Bridge: Drive towards Smíchov to Jirásek Bridge. Turn left at
Dienzenhofer Orchards and then take the second right. Continue on Elišky Peškové Street to
the Újezd ​​tram stop and turn right to Plaská.
By car from Plzeňská Street: Continue on Vrchlického Street and Holečkova Street. Take the first left at Kinský Square. Continue to the Újezd ​​tram stop and turn right to Plaská.
Where to park?
Short-term parking for luggage loading and unloading is possible directly in Plaská Street. Parking is subject to a fee of 30 CZK per hour on weekdays (from 8am to 8pm).
Long-term parking can be arranged in a 24/7 Garáže Procházka parking garage 500 m away from the Hunger Wall Residence. We will happily assist you with parking space reservations.
Are you on a business trip or are you going to live in Prague as an expat? Do you enjoy the
unusual accommodation in designer rooms in Prague and do you need more information
about the Prague Hunger Wall aparthotel? Contact us.
space2let, spol. s r.o.
Křižíkova 488/115186 00 Prague 8 – Karlín
Czech Republic
IN: 27875172
VATIN: CZ27875172