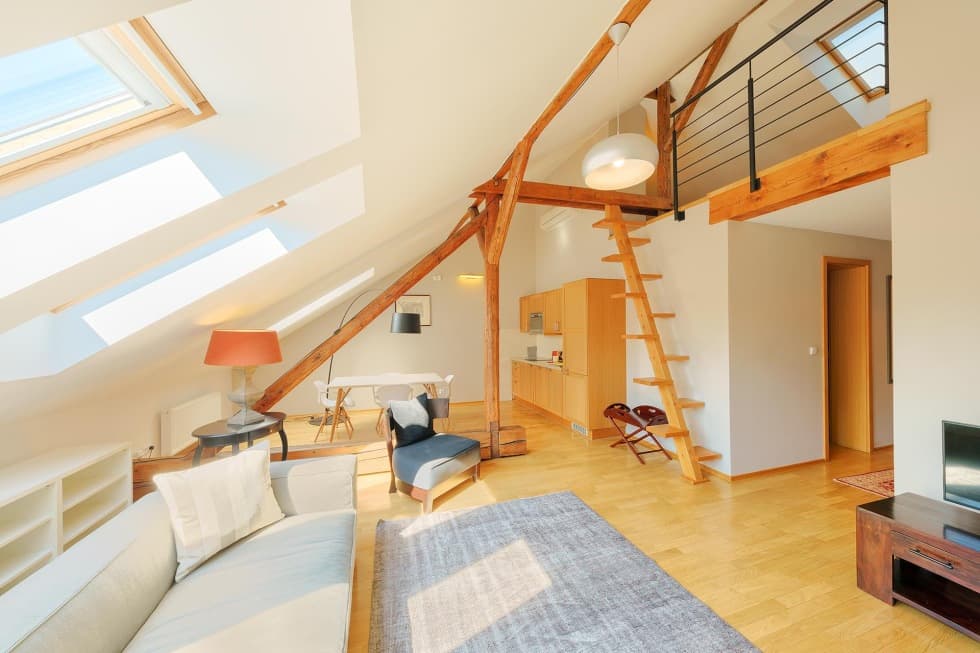 The attic Executive Suite offers a generous 90m 2 . The charm of the Art Nouveau building is emphasised by the original wooden beams and wooden flooring. Modern elegance is provided by the stylish furniture and decor. The apartment has
air conditioning to provide you with a pleasant temperature all year round. The suite accommodates 2 people with the possibility of an extra bed free of charge for children under 6 years.
The Executive Suite consists of three separate rooms – a bedroom, a living room with a
kitchenette and dining area as well as a dressing room/storage space. The kitchen is fully equipped with kitchen utensils and appliances such as an induction hob, a fridge and a dishwasher.
Short-term and long-term accomodation
Junior apartments are available for short-term and long-term. If you are interested in long-term rentals, please contact us directly.
Become one of the hundreds of our satisfied guests. The Hunger Wall Residence offers
accommodation in serviced apartments in the Lesser Quarter of Prague. Whether you
looking for long-term rental or short-term rental in Prague, we're looking forward to seeing you at the Hunger Wall Residence.
Are you on a business trip or are you going to live in Prague as an expat? Do you enjoy the
unusual accommodation in designer rooms in Prague and do you need more information
about the Prague Hunger Wall aparthotel? Contact us.
We guarantee the best price on our site
Book your room via this site and get the best price for a direct online reservation.